The CLP regulation (EC n. 1272/2008) sets the criteria on classification, labeling and packaging of hazardous chemical substances and mixtures marketed in the European Union. It aims to ensure that the hazard of substances and mixtures is properly communicated to professionals and consumers through clear labels and safety data sheets (SDS). It applies to e-cigarettes, concentrated flavors, and e-liquids, even those nicotine-free.
TRUSTiCERT  supplies manufacturers and importers with a full consulting service that comprises:
CLASSIFICATION - To determine the hazard indications
The classification of e-liquids is carried out on the basis of the qualitative-quantitative formulation of the product. It identifies the class and the relative level of severity of the hazards of each substance or mixture and manufacturers or importers are responsible for that.
A proper classification is critical to identify the indications to be put on labels and packs: hazard statements H, precautionary statements P recommendations, and standard pictograms.
The CLP classification of a mixture is also carried out for the purposes of notification to be submitted through the European EU-CEG Portal under the TPD-II obligations.
LABELING - To conceive pack and label complying with the regulation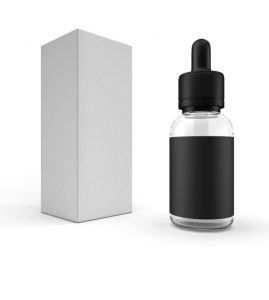 Unit packs and any other external packaging for electronic cigarettes and refill containers must be labeled and must include a leaflet complying with TPD-II, CLP and eventual specific national law (e.g.: the Consumer Code in Italy). TRUSTiCERT offers a qualified service that includes: the review of labels and/or leaflets, the support for issuing new labels and/or leaflets in accordance with the legislation in force in the country of interest and assistance on specific aspects relating to labeling or  destination of the product and assistance on particular aspects of labeling and related regulations.
SAFETY DATA SHEET - To issue the SDS, a compulsory informative document
The SDS is a legally binding information document that the supplier (manufacturer / importer / responsible company) of the dangerous product must send to the recipient: employer, professional user, distributor, retailer, downstream user. However, it is not intended for the final consumer to be informed of the product's hazard through a label conforming to CLP.
The European Safety Data Sheet (SDS) is articulated in 16 points in accordance with the REACH Regulation (EC No. 1907/2006) and subsequent amendments; contains information of a variety of nature, such as composition (section 3), physical and chemical properties (section 9), toxicological and ecological (sections 11 and 12) of the product. The CLP classification of the mixture is an integral part of the Safety Data Sheet, which is entirely devoted to section 2: Identification of hazards.